Windows 11 is here!
Microsoft has officially released Windows 11 and we have decided to put together everything you and your business need to know about the new operating system. We also take a look at whether you should upgrade now, or wait until later to adopt Windows 11 for your business.
Windows 11 release date
Windows 11 was officially released by Microsoft on October 5th, 2021.
Windows 11 – A new Windows experience
As Microsoft say themselves – "Windows 11 is designed to bring you closer to what you love". As such, this new operating system presents a number of improvements over its popular predecessor Windows 10, including an attractive new modern design, improved security and productivity features and more seamless integration with the cloud.
Windows 11 Highlights
New Modern Design
Windows 11 comes fresh with a new modern design that aims to bring users a sense of calm and ease – a worthy ambition in an age with ever-increasing screen times. This new design focuses more on simplicity and is aimed at improving user experience and productivity. Microsoft also claims that Windows 11 is the most inclusively designed version yet, with accessibility improvements that were built for and by people with disabilities.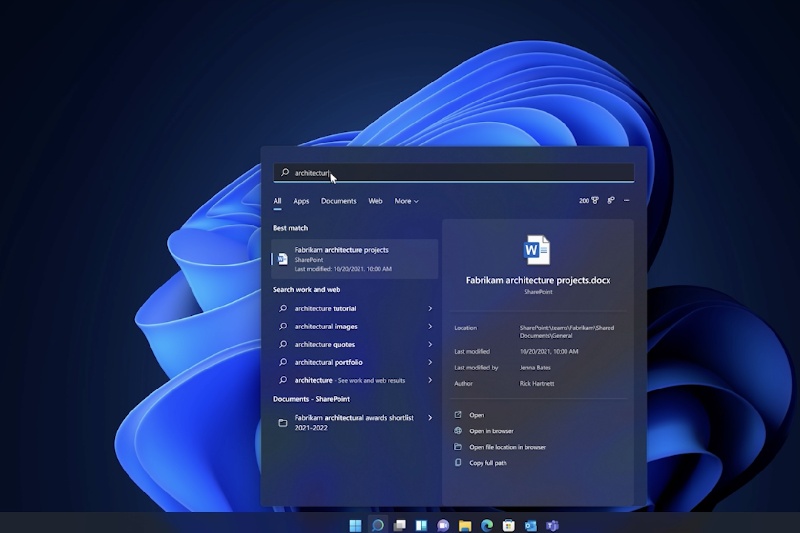 (Source: microsoft.com)
Re-Imagined 'Start' Experience
The Start on Windows 11 has been reimagined as the centre of its user experience and aims to make the user's content more easily accessible and more intuitive to find. Start integrates more seamlessly with the cloud and Microsoft 365 to show users their recent files, no matter what device they are using.

(Source: microsoft.com)
Improved Layouts & Desktops For Productivity
Windows 11 makes it easier for users to work more productively, with multiple desktops – a feature heavily used by Mac users – as well as a range of various snap layouts and grids to allow users to maximise their screen utility and multi-task more effectively.
Built For Hybrid Working
Windows 11 is also being pitched as the operating system for hybrid working. Microsoft Teams is integrated right into the taskbar, providing a faster way to communicate. Windows 11 is built on the foundations of Windows 10, so from an IT perspective, businesses will prepare and deploy Windows 11 in the same way as Windows 10.
Another highlight is that Windows 11 is secure by design – a Zero Trust-ready OS that protects data and access across devices. It comes with built-in security that adds protection from the chip to the cloud and is designed for the evolving threats of the hybrid working world.
Windows 11 Security & Requirements
Windows 11 is being rolled out as a free upgrade for eligible Windows 10 PCs. There is some confusion however as to what constitutes an eligible device. Microsoft has released the hardware requirements for Windows 11 and Trusted Platform Module (TPM) version 2.0 is on the list.
TPM is a secure cryptoprocessor that secures a computer using an integrated cryptographic key. It is a feature that is designed to prevent hackers or malware from accessing data on a device.
While understandable for a Zero Trust-ready OS to require TPM, it does mean that some older devices won't be eligible for the upgrade. There are some workarounds however, but with the rate that cyber security incidents are on the rise, most will accept that it's time to invest in their device security.
To check if your current Windows 10 device is eligible for the free upgrade to Windows 11, you can visit Windows.com to download the PC Health Check app.
Windows 11 Minimum System Requirements
| | |
| --- | --- |
| Processor | 1 GHz or faster with 2 or more cores on a compatible 64-bit processor or SoC |
| RAM | 4 GB |
| Storage | 64 GB or larger storage device |
| Firmware | UEFI, Secure Boot capable |
| TPM | Trusted Platform Module (TPM) version 2.0 |
| Graphics Card | Compatible with DirectX 12 or later with WDDM 2.0 driver. |
| Display | High definition (720p) display greater than 9" diagonally, 8 bits per colour channel. |
| Internet connection and Microsoft account | Windows 11 Home edition requires internet connectivity and a Microsoft account. Switching a device out of Windows 11 Home in S mode also requires internet connectivity. For all Windows 11 editions, internet access is required to perform updates and to download and take advantage of some features. A Microsoft account is required for some features. |
Which Windows 11 Version Is Right For My Business?
Microsoft has launched three Windows 11 versions, a Windows 11 Home edition, and Windows 11 Pro and Windows 11 Pro for Workstations for business use.
Windows 11 Pro
Windows 11 Pro is designed for the modern hybrid workplaces. It comes with business and management features that teams need to work more efficiently and securely from anywhere including additional security features, access control, Active Directory, Remote Desktop, device management and much more.
Windows 11 Pro for Workstations
Windows 11 Pro for Workstations is designed for people with more advanced workloads and data needs such as data scientists, CAD professionals, graphic designers, animators, researchers and media production teams. It includes additional features such as persistent memory and a resilient file system (ReFS).
There is also Windows 11 Enterprise which is part of Microsoft 365 Enterprise plans that provide productivity and collaboration apps, device management and additional security services.
You can find a full comparison of Windows 11 versions here.
Should I upgrade to Windows 11 now?
As with all new OS releases, most businesses will hold off on immediately upgrading their systems to the latest OS until it has had time to bed in and for any kinks to be ironed out, but we're hopeful that this generation of Windows will be as successful and as popular as its predecessor in the months and years to come.
The free upgrade to Windows 11 started on October 5 and will be phased and measured and for business users, deciding to upgrade to Windows 11 will be no different.
If you have any queries about the new Windows 11 OS for you business, get in touch with our team today on 01 818 3272 or at info@calnet.ie.